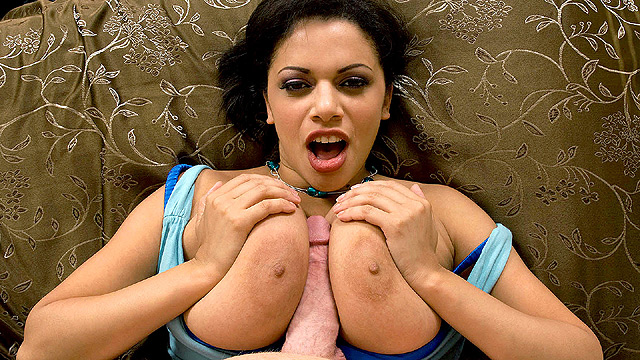 Don't you love getting something for nothing? We sure do. It's wonderful to just receive and not have to give back. For example, Alexis Silver is horny and so is this lucky bastard right here. So, instead of demanding that he eat her pussy and finger her, and get her all worked up and make her cum repeatedly, she says, "Hey baby, let's put MY needs on the back burner and let me take care of YOU." So, she pleasures him with her rack and her wonderful, nubile hands. She even sucks on his balls (and we all know how difficult it is to get a no-strings-attached balls-sucking these days, eh?) and lets him finger her tight asshole, too. And when he throws his head back and lets it rain man sauce all over her, Alexis says thanks and that is that. She doesn't say, "Hold me," or, "Can you get me a tissue and glass of water?" Nope. She just says, "Thanks for the cum," and plays with it. Talk about being a giver. Alexis is an angel in our books.
More Big Tits »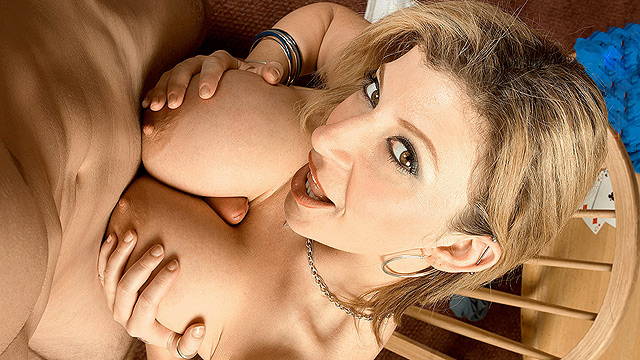 When you meet a chick with big tits and you ask her out on a date and she replies, "I don't really want to go out. I kind of want to stay in and just hang out," this is code for, "Get me naked and fuck my tits." We know it doesn't sound like that, but trust us, we're experts. This is a perfect opportunity to suggest a little game of poker. What kind of poker? Strip poker, of course. (Instead of Texas Hold 'Em, you can play Tits, Hold 'Em.) If she doesn't know how to play, you can always teach her. (Chicks love to learn and love guys who want to teach.) In the end it's a win-win for everyone. She gets some quality time with you and you get to stick your dick in between her pair. Don't believe us? Just take a look at Sara Jay getting her tits pounded and coated. This started off as an innocent game of poker and ended up a serious game of poke her.
More Big Tits »
Top-Rated Tit-Fuck Videos
Kristi Klenot has an ear for music and a set of tits for cock. That's why when this piano tuner comes over and starts tickling the ivories, she immediately tickles his cock with her hands and mams. You see, she is just as passionate about milking dicks as she is about music. Watch as she goes from passive listener to straddling this guy right on the piano bench. It looks like he might have started out just wanting to tune this piano but in the end, Kristi tuned his organ, instead. (We doubt he minded either.)
More Big Tits »
We'd like to take a moment and send a little bit of love in a shout out to hotel maids. These women move stealthily, ridding rooms of dirt, grime, funk and used condom wrappers and they work hard. Think about it. They change your sheets, replace soap, vacuum and dust. Heck, some of them even service you, wrapping their nice, round and brown dugs around your dick flesh and stroking you until you cum. What? Not all maids do that? Well this one does and we are pretty sure she cleans up all the man sauce on her rack, too. Maybe she even leaves you a mint on your pillow.
More Big Tits »