We are going to list why this is such a great video right off the bat. First of all, this video stars a delectable big-titted hottie. That alone is enough to make it quality entertainment. Second of all, said big-titted hottie is a sexy black chick. That means her tits are a wonderful shade of mocha, and who doesn't love chocolate? Seriously. Third of all, said big-titted mocha hottie is standing in a hot tub, covered in bubbles. Yup. Say it with us: Big, wet, chocolate tits. Almost makes your mouth water, huh? And finally, said big-titted, sopping wet, mocha hottie is a horny cock-milking slut who wants nothing else other than to remove a few ounces of sperm from your nut sac. Yeah, we said it. A big-titted, sopping wet, mocha-flavored, nympho hottie is in this video. Well, what are you waiting for? Watch and work your meat, man.
More Big Tits »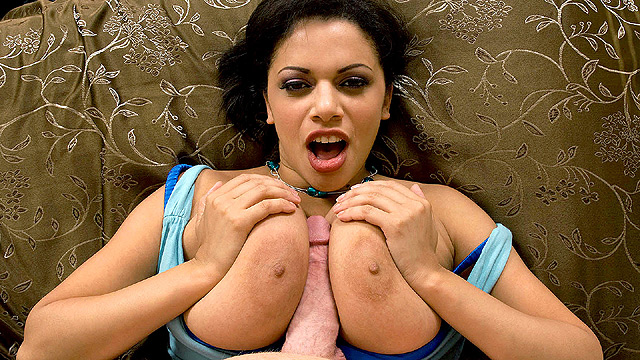 Don't you love getting something for nothing? We sure do. It's wonderful to just receive and not have to give back. For example, Alexis Silver is horny and so is this lucky bastard right here. So, instead of demanding that he eat her pussy and finger her, and get her all worked up and make her cum repeatedly, she says, "Hey baby, let's put MY needs on the back burner and let me take care of YOU." So, she pleasures him with her rack and her wonderful, nubile hands. She even sucks on his balls (and we all know how difficult it is to get a no-strings-attached balls-sucking these days, eh?) and lets him finger her tight asshole, too. And when he throws his head back and lets it rain man sauce all over her, Alexis says thanks and that is that. She doesn't say, "Hold me," or, "Can you get me a tissue and glass of water?" Nope. She just says, "Thanks for the cum," and plays with it. Talk about being a giver. Alexis is an angel in our books.
More Big Tits »
Top-Rated Tit-Fuck Videos
We'd like to take a moment and send a little bit of love in a shout out to hotel maids. These women move stealthily, ridding rooms of dirt, grime, funk and used condom wrappers and they work hard. Think about it. They change your sheets, replace soap, vacuum and dust. Heck, some of them even service you, wrapping their nice, round and brown dugs around your dick flesh and stroking you until you cum. What? Not all maids do that? Well this one does and we are pretty sure she cleans up all the man sauce on her rack, too. Maybe she even leaves you a mint on your pillow.
More Big Tits »
Let's ask this question right up front: What is the difference between a job well done and a shitty attempt at doing something? Well, the answer to that boils down to three things: liking what you do, putting your all into it and not quitting until the job gets done. Those principles apply to any kind of task you take on. That is why we want to come right out and say that Candace Von does a good job tugging with her tatas. Why? Because she obviously likes milking cocks. Just look at her, jacking and tugging away like a woman in love. And she obviously puts her all into it, talking dirty, switching up the positions and being as nasty as she wants to be. And finally, she doesn't quit until this dude blows a load all over her jugs. Candace is in it until the last drop has been squirted. That is why we think that Candace Von is an excellent tug-job giver. And you can take our word for it. Why? Because we are big-boob experts. We love big boobs, and we approve of this message.
More Big Tits »