With her pixie haircut and cute smile, Carly Parker looks like a nice girl. She looks like a chesty chick that you would encounter at one of those sports bars that cater to boob hounds. Can you imagine her in a tight top and tiny shorts, bringing you a platter of chicken wings and a cold pitcher of beer? How about in no top, rubbing her pussy and begging for your cock? Yeah, we prefer the second one, too. You see, Carly doesn't want to sling wings and beer for cash. She knows that if she lets you sling your cream on her breasts she can make more bucks, so she tugs and rubs cock, cheerfully and with lots of gusto. We've seen a lot of tug jobs, but Carly is one of the nicest, big busted tuggers we've ever seen. She gives you service with a smile, and that's exactly what you want to see when you're coating a chick's rack with your sperm.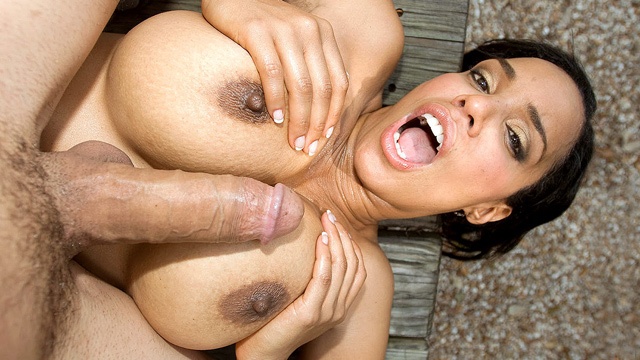 Some girls make you chase them around, spending money, complimenting them, taking them on dates, buying them gifts, and then just when you think you are going to get some, they shaft you and won't put out. Those are the kind of bitches who will get your cock hard and then tell you they've had a great night and that's that. You won't even get a pity blow job or hand job from these cocktease bitches because they claim they aren't that type of girl. Well thank God that Soleil is not that type of girl. Sure Soleil wants you to chase her around...the yard. You see, she is wearing a tiny bikini and she wants you to run after her so she can show you how her bounteous bosoms bounce when she is in action mode. She wants to flash you the goods and get you worked up, because she only wants to have at you when your cock is nice and hard. And when Soleil is warmed up from all that running, she is going to tug and tit fuck your cock and beg for you to smear your sauce on her rack. So forget those other hard-to-get bitches and get with Soleil. In this world full of uncertainty, don't you need some something that gives you a sense of security? Guess what? Soleil is a sure thing.
Top-Rated Tit-Fuck Videos
Holly's been in the biz for over a decade and unlike some other porn legends, she doesn't just go through the motions when she films a fuck scene. In fact, she gives it her all, sometimes going above and beyond the call of booty to ensure that everyone cums in the end. So what do you do when one of the queens of cream asks you to give her something new and exciting to do? You tell her to give the perfect tit and tug job and let us film it, that's what. When we told Holly to use her knockers and knock a huge load out of this cock, not only was she excited to give it a go, she also told us that she had some personal experience to fall back on. (Apparently, when you are the owner of a huge set of jugs, you find creative and exciting ways to use them in your daily life.) Since Holly was no stranger to jerking a cock with her jugs, we wondered what the lure of the tug job was for her? She said she was just excited to use something other than her pussy, mouth and ass to drain a cock. Hey, whatever floats your boat, Holly.
Kristi Klenot has an ear for music and a set of tits for cock. That's why when this piano tuner comes over and starts tickling the ivories, she immediately tickles his cock with her hands and mams. You see, she is just as passionate about milking dicks as she is about music. Watch as she goes from passive listener to straddling this guy right on the piano bench. It looks like he might have started out just wanting to tune this piano but in the end, Kristi tuned his organ, instead. (We doubt he minded either.)