Who doesn't remember that scene in "Ferris Bueller's Day Off", when the busty nurse arrives at his house with a delivery of flowers and balloons? She utters that famous poem, "I heard that you were feeling ill. Headache, fever and a chill. I came to help restore your pluck, 'cause I'm the nurse who likes to..." Well, this scenario is kind of like that. You see, Sarah is a nurse who can't stand it when her male patients have any kind of ailment. Now, we are not sure what nursing school she attended, but whatever it was, they taught her that every illness could be cured by milking a cock with her righteous jugs. We aren't rocket scientists or anything like that, but that sounds just about right to us because we always feel better when we've shot a load on some tits. Don't you?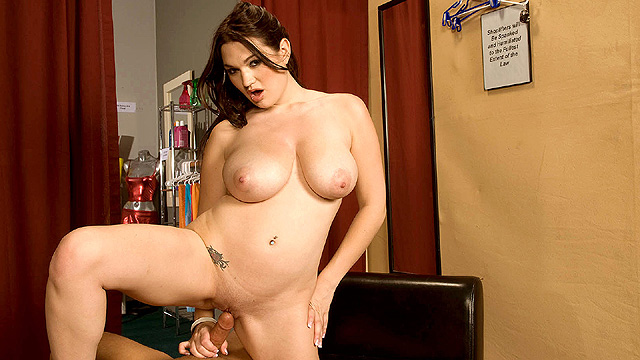 So you're out shopping for your girlfriend. (Or at least that is the story you came up with the minute you spotted this jugg-tastic hottie in your local surf shop.) So, being the great boyfriend that you are, you decide that your girlfriend really needs a skimpy bikini. (Even though it's not beach weather out.) So you approach Cassandra, who ironically seems to be the same size as your girlfriend. (How convenient!) Wearing your most-responsible, non-threatening smile, you ask her if she could do you a great, big favor and try some suits and model them for you so you can make the best purchase for your better half. (You really are the best guy there is. So giving and selfless.) Luckily for you, Cassandra is selfless, too, and agrees to try on some bikinis for your viewing pleasure, er, gift research. While she changes, you thank your lucky stars that this busty angel is generous enough to parade around, flaunting her assets for you. But wait...what kind of girl says yes to modeling bikinis for a perfect stranger? A horny cock-slut, that's who. Just as you realize that maybe you can get more than just a fashion show from this chick, she opens the dressing room curtain and tells you to come inside for a private viewing. (And the sucking and fucking of your life! Lucky bastard.) It just goes to show you, some chicks really do love the dick this much.
Top-Rated Tit-Fuck Videos
Kristi Klenot has an ear for music and a set of tits for cock. That's why when this piano tuner comes over and starts tickling the ivories, she immediately tickles his cock with her hands and mams. You see, she is just as passionate about milking dicks as she is about music. Watch as she goes from passive listener to straddling this guy right on the piano bench. It looks like he might have started out just wanting to tune this piano but in the end, Kristi tuned his organ, instead. (We doubt he minded either.)
We'd like to take a moment and send a little bit of love in a shout out to hotel maids. These women move stealthily, ridding rooms of dirt, grime, funk and used condom wrappers and they work hard. Think about it. They change your sheets, replace soap, vacuum and dust. Heck, some of them even service you, wrapping their nice, round and brown dugs around your dick flesh and stroking you until you cum. What? Not all maids do that? Well this one does and we are pretty sure she cleans up all the man sauce on her rack, too. Maybe she even leaves you a mint on your pillow.