Latest Tit-Fuck Videos (Page 2)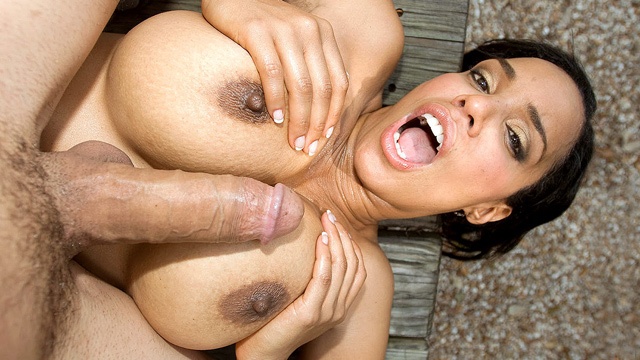 Some girls make you chase them around, spending money, complimenting them, taking them on dates, buying them gifts, and then just when you think you are going to get some, they shaft you and won't put out. Those are the kind of bitches who will get your cock hard and then tell you they've had a great night and that's that. You won't even get a pity blow job or hand job from these cocktease bitches because they claim they aren't that type of girl. Well thank God that Soleil is not that type of girl. Sure Soleil wants you to chase her around...the yard. You see, she is wearing a tiny bikini and she wants you to run after her so she can show you how her bounteous bosoms bounce when she is in action mode. She wants to flash you the goods and get you worked up, because she only wants to have at you when your cock is nice and hard. And when Soleil is warmed up from all that running, she is going to tug and tit fuck your cock and beg for you to smear your sauce on her rack. So forget those other hard-to-get bitches and get with Soleil. In this world full of uncertainty, don't you need some something that gives you a sense of security? Guess what? Soleil is a sure thing.
More Big Tits »
Sara Jay loves cock. Wait, that's not entirely true. The truth is that Sara Jay REALLY FUCKING LOVES COCK. She is obsessed with man meat. She loves to touch it, suck it, fuck it and rub her tits on cocks until there is an explosion of man sauce and it's flying in her direction. In this scene, the big-boobed sexual wonder comes over with what can only be described as a plethora of lube. We're talking about packets of lube, bottles of lube and lube in tiny tubes crammed in a purse that she totes around in case there is an emergency that calls for gallons of lube. Luckily for this guy, she not only provides the lube, but she also offers to coat his cock and her tits in it so she can give his pud a pounding with her breasts. It's a sticky situation but Sara handles it like a pro. She squeezes every last drop of his jizz out and lets it sit on her tits like icing. You gotta love a girl who travels with her own lubrication and knows how to work a cock. We salute you and your slutty skills, Sara.
More Big Tits »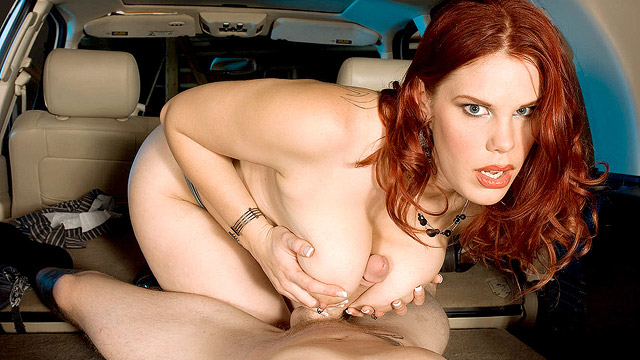 No one likes to get handed a ticket by a cop. Especially not after you have tried to talk and negotiate your way out of it. But sometimes, when you are dealing with the fuzz, you have to talk faster, negotiate harder and get out of that ticket anyway you can. And that's what Jolie Rain does. She talks fast and negotiates her ass off but this douchebag still hands her a citation. But don't feel bad for Jolie because this girl doesn't take this ticket sitting down. She springs into action showing this cop her mighty top when she whips her tits out for his pleasure. She offers him a trade: Her tits for the disappearance of said ticket. Our boy in blue doesn't think twice about it. Why wouldn't he want to get a great tug job from Jolie? With her full tits and pretty pink nips, we are sure she gives one mean tit job. And, at the end of the day, this is really a win-win situation. Jolie gets off with a gooey warning all over her chest and this cop gets off.
More Big Tits »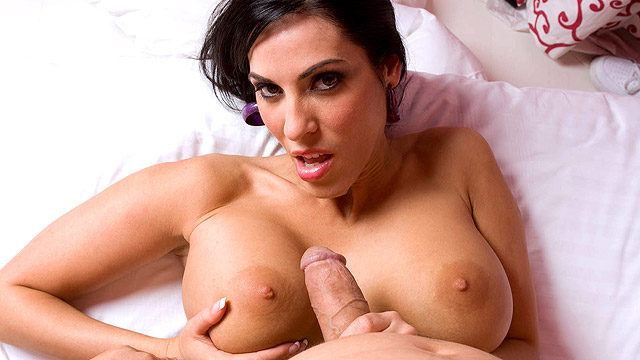 What do you get when you give an uber hottie like Veronica Rayne a hotel room, some lube, a porn stud and the instructions like, 'Show us what you can do with those tits, sweetie..." and then you start rolling? You get a fuckin' hot tug job on film, that's what. Veronica was so into giving the tug job that she just spontaneously started talking dirty. And if you thought she was just a good pair of porno titties, you have to get a load of her naughty talk. Let's put it this way, her dirty ramblings will make you want to drop your load on her tits, her face and in that potty mouth of hers. She works cock with lots of gusto and who doesn't like a girl who is excited about holding and rubbing your junk? What else is good about Ms. Rayne? We'd venture to say that she is a hard worker. Ever nail one of those work, twerk and jerk hos that takes charge of your cock and lets you sit back, relax and get fucked? That's exactly how Veronica handles this package. She is on it the minute it comes in the room until the moment it cums and we like commending diligence like that. So here's a cock up for you, Veronica. Way to go.
More Big Tits »
Some people will tell you that they went to the champagne room in a strip club with a hot girl and that they scored a piece of pussy for a reasonable price. We think that maybe that might have happened. But it doesn't happen all the time. Others will tell you that they went into the VIP and tried to score some pussy and got tossed out on their asses. We think that happens more often than not. We are here to tell you what probably happens in the champagne room on the regular. You spot a hot girl like Summer and she's dancing, swaying those jugs around like a couple of pom-poms. You pull out some cash and give her what we like to call a, "dance donation," for her tit-swaying prowess. This convinces her to unveil said tits and mash 'em on your face and crotch. This leads you to give her another dance donation. Whilst giving her your hard earned bucks for making you hard, she catches a glimpse of your wad o' cash and tells you that she will take you to the VIP room for that wad o' cash. What do you get in return? Well, it doesn't take a rocket scientist to figure out that you like tits. Summer has probably had that figured out since you gave her the first tit-swaying dance donation. So, she whips your dick out, whips her tits out and connects the two in a furious pumping and mashing experience that we like to call a tit-and-tug-aganza! Her talented tatas blow your wad, she takes your wad o' cash, she wipes off your baby batter, exits stage left not a hair out of place and lives to dance another day. That sounds like it could happen, right? Like it does happen, right? Much more than your buddy's tall tale of banging a stripper like a jackhammer in the VIP, right? Yeah, we think so, too. That's why we like the tits-and-tug job so much. It's like the fast-food version of a good time. You get in, get off and get out...in that order.
More Big Tits »