Latest Tit-Fuck Videos (Page 3)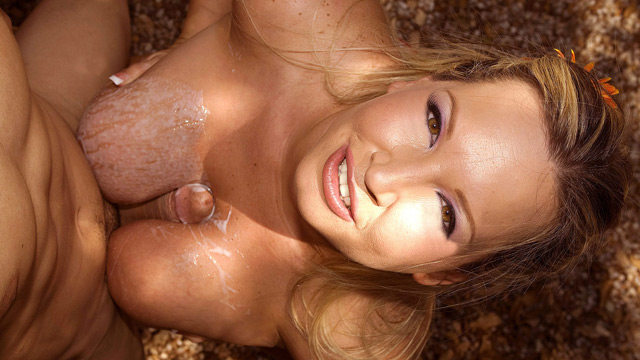 Got MILK? If you don't then you should run out and get some right away because Rachel love is thirsty. She wants you to sit down with her and enjoy some milk and nookie. No, we didn't say cookies. We said nookie. You see, Rachel has got some nice-sized tits and she wants you to put them in your mouth. And here is where the nookie part comes into play because she plans on fucking you with them. Yup, this chick plays with milk and then jug-fucks your dick into oblivion. And if there wasn't already enough milk spilled in this scenario, she wants even more! Because she wants your cream on her chest, buddy. Yeah, thank goodness she isn't lactose intolerant. Rachel Love knows that milk (and your cream) does a body good!
More Big Tits »
Two things are for sure: Morgan Leigh's huge jugs in this flag bikini will make your cock say,"God Bless America!" and when someone like Morgan comes your way, you pretty much drop everything to give her what she wants. You see, Morgan was on the beach all by her lonesome, just frolicking in the surf, making her bazookas jiggle (as all busty women should do at all times) and she spots a good-looking guy and his girlfriend on the rocks, nearby. She takes in the scene and realizes that this guy's girlfriend doesn't even bother to show some skin and that her tiny tits are no match for her huge tatas. So she saunters over and asks if he will rub some oil on her, um, back. We are sure that this guy gets shit for it, but we'd say fuck it and go for it, too. Wouldn't you? He rubs some lotion on Morgan, but before long, he is rubbing on her titties, too. She believes in tit for tat because she helps him rub one out, too, but instead of her hands, she uses her cock-holders, er, tits. This is one patriotic pud-draining that we are sure you will salute with your cock, too.
More Big Tits »
Hotel stays are always made better by the little perks. Little things like free soap, clean towels, and those plush terrycloth robes make residing in a place, far from home, even better. When you realize that you have free cable and that you can order up free continental breakfast, it gets even better. But what if you could order up even more comforts? What if some busty bellhop showed up to turn down your bed and turn out your cock head, too? Wouldn't that be marvelous? Room service would take on a whole other meaning, right? Well Summer shows this guy exactly how intent she is on making his stay a pleasant one when she wraps her globes around his loaded gun. She draws all the sauce she can from his nuts and then leaves, so as not to disturb his rest. The only question left is, will she leave a mint on his pillow afterwards?
More Big Tits »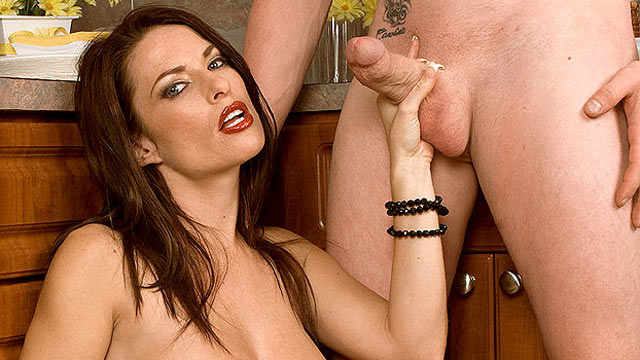 There's something about a hot chick with big tatas in red lingerie, waiting for you in the kitchen. It's almost perfect. The only thing that's missing is a cold beer in her hand while she is waiting on her knees to suck your dick. But what if she said, "Honey, today I want you to fuck my big, luscious tits with your dick and then spray me with cum...then I'll make you a pie," wouldn't that be the most-perfect moment of all time? We think so. If Goldie were your girlfriend, then every day would be perfect, because she loves to titty fuck. She may not make you a pie afterwards, but she would probably let you get in her pie, since she seems to be pretty easy. (Not that this is a problem.) She told us she likes it almost as much as she loves to give blowjobs. Yes, she loves to give blowjobs, too. And she likes to lick cum off her tits. She's a pipe cleaner and a cum-cleaner, all in one. Talk about a good, little woman. What a keeper.
More Big Tits »
The wonderful thing about this video is that it's Cindy Cupps and a cock. Period. Ms. Cupps has been one of our favorite big titters for a long time, but she was always hesitant to get it on with any dong...even though all you big-boob fanatics were begging her to go all the way. And who wouldn't want to blow a load all over Cindy? With those saucer-sized areola and those balloon-sized jugs, she is a keeper. So when we suggested that instead of devouring and pouncing on a cock that she might want to use her mams and cute hands to stroke one into submission, she was all for it. And for someone who claimed, or maybe feigned, not being into working a cock on camera, Cindy strokes this one like she's been doing it for years. She rubs her big tits all over it and then she grabs on to it and jerks, jerks, jerks it until this guy is harder than college algebra. Then she wraps it up nice and snug in her tit-pussy and rocks her rack up and down until we have blastoff and this guy is creaming all over her. Seeing Cindy handle man-meat for the first time ever is a thing of beauty. Enjoy it.
More Big Tits »