Holly's been in the biz for over a decade and unlike some other porn legends, she doesn't just go through the motions when she films a fuck scene. In fact, she gives it her all, sometimes going above and beyond the call of booty to ensure that everyone cums in the end. So what do you do when one of the queens of cream asks you to give her something new and exciting to do? You tell her to give the perfect tit and tug job and let us film it, that's what. When we told Holly to use her knockers and knock a huge load out of this cock, not only was she excited to give it a go, she also told us that she had some personal experience to fall back on. (Apparently, when you are the owner of a huge set of jugs, you find creative and exciting ways to use them in your daily life.) Since Holly was no stranger to jerking a cock with her jugs, we wondered what the lure of the tug job was for her? She said she was just excited to use something other than her pussy, mouth and ass to drain a cock. Hey, whatever floats your boat, Holly.
More Big Tits »
Kristi Klenot has an ear for music and a set of tits for cock. That's why when this piano tuner comes over and starts tickling the ivories, she immediately tickles his cock with her hands and mams. You see, she is just as passionate about milking dicks as she is about music. Watch as she goes from passive listener to straddling this guy right on the piano bench. It looks like he might have started out just wanting to tune this piano but in the end, Kristi tuned his organ, instead. (We doubt he minded either.)
More Big Tits »
It's a Friday night and you're out at your local dance club, otherwise known as the place where you go to find hos to stick your dick in. (Don't worry, we don't think you actually go there because you want to dance around like a ballerina, buddy.) The night is looking pretty shitty because the chicks look like hyenas, so you saunter over to the bar to drown your sorrows in a few cold ones before heading back to your pad all alone to whack off. You're spilling a few tears in your beer when you look over and see them. By them, we mean two gigantic, chocolate tits. You look up and there she is, Carmen Hayes, in all her boobarific glory. Her red dress is barely covering her hooters and you know that it's now or never, so you go over and introduce yourself. She rolls her eyes at you but you are not deterred because you know a chick like this is going be to a challenge. So you engage her in a gentleman's wager and she takes the bait. If she can get you off with just her tits, you'll give her a diamond necklace. If she can't, then you get to nail her tight mocha pussy. You go back to the crib and she slams your cock with her bangin' boobies until you spurt. You accept your defeat and when she tries to claim her diamond necklace prize, you tell her the truth: That creamy pearl necklace she is wearing is going to have to suffice. Then you smile and tell her that she should love her new jewelry because you made it yourself and those are the gifts that count the most.
More Big Tits »
Hotel stays are always made better by the little perks. Little things like free soap, clean towels, and those plush terrycloth robes make residing in a place, far from home, even better. When you realize that you have free cable and that you can order up free continental breakfast, it gets even better. But what if you could order up even more comforts? What if some busty bellhop showed up to turn down your bed and turn out your cock head, too? Wouldn't that be marvelous? Room service would take on a whole other meaning, right? Well Summer shows this guy exactly how intent she is on making his stay a pleasant one when she wraps her globes around his loaded gun. She draws all the sauce she can from his nuts and then leaves, so as not to disturb his rest. The only question left is, will she leave a mint on his pillow afterwards?
More Big Tits »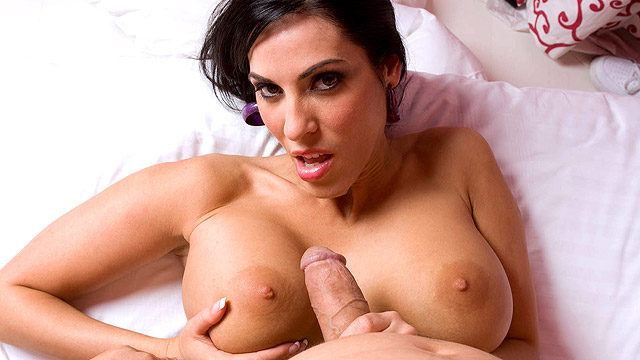 What do you get when you give an uber hottie like Veronica Rayne a hotel room, some lube, a porn stud and the instructions like, 'Show us what you can do with those tits, sweetie..." and then you start rolling? You get a fuckin' hot tug job on film, that's what. Veronica was so into giving the tug job that she just spontaneously started talking dirty. And if you thought she was just a good pair of porno titties, you have to get a load of her naughty talk. Let's put it this way, her dirty ramblings will make you want to drop your load on her tits, her face and in that potty mouth of hers. She works cock with lots of gusto and who doesn't like a girl who is excited about holding and rubbing your junk? What else is good about Ms. Rayne? We'd venture to say that she is a hard worker. Ever nail one of those work, twerk and jerk hos that takes charge of your cock and lets you sit back, relax and get fucked? That's exactly how Veronica handles this package. She is on it the minute it comes in the room until the moment it cums and we like commending diligence like that. So here's a cock up for you, Veronica. Way to go.
More Big Tits »