We are going to list why this is such a great video right off the bat. First of all, this video stars a delectable big-titted hottie. That alone is enough to make it quality entertainment. Second of all, said big-titted hottie is a sexy black chick. That means her tits are a wonderful shade of mocha, and who doesn't love chocolate? Seriously. Third of all, said big-titted mocha hottie is standing in a hot tub, covered in bubbles. Yup. Say it with us: Big, wet, chocolate tits. Almost makes your mouth water, huh? And finally, said big-titted, sopping wet, mocha hottie is a horny cock-milking slut who wants nothing else other than to remove a few ounces of sperm from your nut sac. Yeah, we said it. A big-titted, sopping wet, mocha-flavored, nympho hottie is in this video. Well, what are you waiting for? Watch and work your meat, man.
More Big Tits »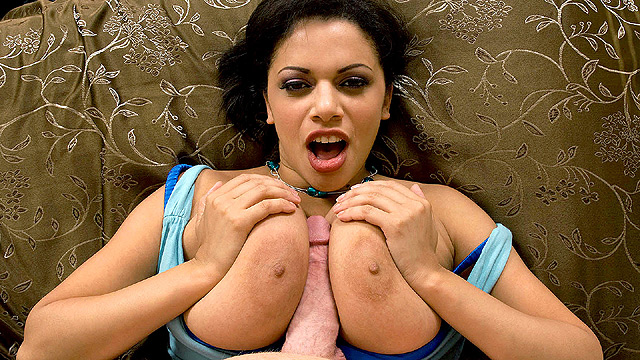 Don't you love getting something for nothing? We sure do. It's wonderful to just receive and not have to give back. For example, Alexis Silver is horny and so is this lucky bastard right here. So, instead of demanding that he eat her pussy and finger her, and get her all worked up and make her cum repeatedly, she says, "Hey baby, let's put MY needs on the back burner and let me take care of YOU." So, she pleasures him with her rack and her wonderful, nubile hands. She even sucks on his balls (and we all know how difficult it is to get a no-strings-attached balls-sucking these days, eh?) and lets him finger her tight asshole, too. And when he throws his head back and lets it rain man sauce all over her, Alexis says thanks and that is that. She doesn't say, "Hold me," or, "Can you get me a tissue and glass of water?" Nope. She just says, "Thanks for the cum," and plays with it. Talk about being a giver. Alexis is an angel in our books.
More Big Tits »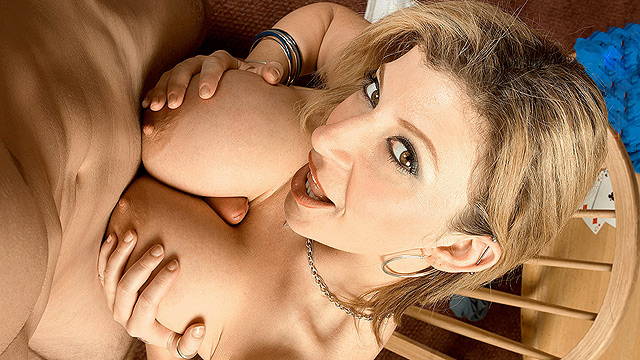 When you meet a chick with big tits and you ask her out on a date and she replies, "I don't really want to go out. I kind of want to stay in and just hang out," this is code for, "Get me naked and fuck my tits." We know it doesn't sound like that, but trust us, we're experts. This is a perfect opportunity to suggest a little game of poker. What kind of poker? Strip poker, of course. (Instead of Texas Hold 'Em, you can play Tits, Hold 'Em.) If she doesn't know how to play, you can always teach her. (Chicks love to learn and love guys who want to teach.) In the end it's a win-win for everyone. She gets some quality time with you and you get to stick your dick in between her pair. Don't believe us? Just take a look at Sara Jay getting her tits pounded and coated. This started off as an innocent game of poker and ended up a serious game of poke her.
More Big Tits »
Janet Jade's titties are like two huge, full chocolate truffles. When you see them, you don't know what to do with them first; play with them, get 'em in your mouth or put your dick in between them. Well, we are here to tell you that you don't have to choose. You can do all that and more with her gigantic tatas. You see, Janet is one of those ladies that appreciates her assets almost as much as you do. She likes to be nasty and raunchy and get it on. And when you are all over her tittes, fondling, sucking and fucking them, she is encouraging you to spurt your load all over them. We encourage you to take some time out of your busy schedule and jack to Ms. Jade. You will be glad you did.
More Big Tits »
Who doesn't remember that scene in "Ferris Bueller's Day Off", when the busty nurse arrives at his house with a delivery of flowers and balloons? She utters that famous poem, "I heard that you were feeling ill. Headache, fever and a chill. I came to help restore your pluck, 'cause I'm the nurse who likes to..." Well, this scenario is kind of like that. You see, Sarah is a nurse who can't stand it when her male patients have any kind of ailment. Now, we are not sure what nursing school she attended, but whatever it was, they taught her that every illness could be cured by milking a cock with her righteous jugs. We aren't rocket scientists or anything like that, but that sounds just about right to us because we always feel better when we've shot a load on some tits. Don't you?
More Big Tits »