Popular Tit-Fuck Videos (Page 2)
Chavon Taylor is a nasty tit slut who likes to wiggle and jiggle her big jugs and lick the precum off the tip of your cock. "Nothing gives me more pleasure than pleasing a man with my boobs. They're my best asset. Squeeze them together and my cleavage is just as tight and fuckable as my pussy," Chavon said. No man's cock is safe from her titty tornado, just like her tits aren't safe from loads of cum that spray all over them. But that's okay, Chavon can handle it. In fact, she loves it.
More Big Tits »
With her pixie haircut and cute smile, Carly Parker looks like a nice girl. She looks like a chesty chick that you would encounter at one of those sports bars that cater to boob hounds. Can you imagine her in a tight top and tiny shorts, bringing you a platter of chicken wings and a cold pitcher of beer? How about in no top, rubbing her pussy and begging for your cock? Yeah, we prefer the second one, too. You see, Carly doesn't want to sling wings and beer for cash. She knows that if she lets you sling your cream on her breasts she can make more bucks, so she tugs and rubs cock, cheerfully and with lots of gusto. We've seen a lot of tug jobs, but Carly is one of the nicest, big busted tuggers we've ever seen. She gives you service with a smile, and that's exactly what you want to see when you're coating a chick's rack with your sperm.
More Big Tits »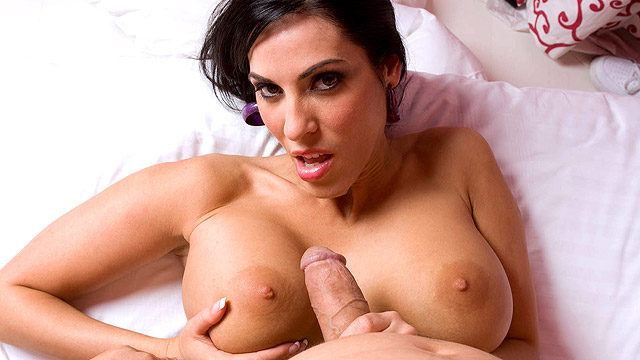 What do you get when you give an uber hottie like Veronica Rayne a hotel room, some lube, a porn stud and the instructions like, 'Show us what you can do with those tits, sweetie..." and then you start rolling? You get a fuckin' hot tug job on film, that's what. Veronica was so into giving the tug job that she just spontaneously started talking dirty. And if you thought she was just a good pair of porno titties, you have to get a load of her naughty talk. Let's put it this way, her dirty ramblings will make you want to drop your load on her tits, her face and in that potty mouth of hers. She works cock with lots of gusto and who doesn't like a girl who is excited about holding and rubbing your junk? What else is good about Ms. Rayne? We'd venture to say that she is a hard worker. Ever nail one of those work, twerk and jerk hos that takes charge of your cock and lets you sit back, relax and get fucked? That's exactly how Veronica handles this package. She is on it the minute it comes in the room until the moment it cums and we like commending diligence like that. So here's a cock up for you, Veronica. Way to go.
More Big Tits »
You know what they say about city girls being experienced and maybe just a little fast? Well, it's true. Christal Rose proves that with her terrific tug skills. Where do you think she learned to jerk a cock like that? It was definitely not on the farm. Christal is a city girl, straight out of New York and once you see her jerk this cock with her milky tits you'll be a fan of tug jobs for the rest of your life. The key to a good tug job is when the girl looks up at you and smiles like she is doing something she really enjoys. That's Christal for you. When she smiles at you and licks her lips while she is holding on to your package and stroking it like she really wants that cum, it's utter perfection. Or rather, udder perfection. We have to give it up to this city girl. She really knows how to tug. We almost wonder if she should be renamed the New York Yankee.
More Big Tits »
We are going to list why this is such a great video right off the bat. First of all, this video stars a delectable big-titted hottie. That alone is enough to make it quality entertainment. Second of all, said big-titted hottie is a sexy black chick. That means her tits are a wonderful shade of mocha, and who doesn't love chocolate? Seriously. Third of all, said big-titted mocha hottie is standing in a hot tub, covered in bubbles. Yup. Say it with us: Big, wet, chocolate tits. Almost makes your mouth water, huh? And finally, said big-titted, sopping wet, mocha hottie is a horny cock-milking slut who wants nothing else other than to remove a few ounces of sperm from your nut sac. Yeah, we said it. A big-titted, sopping wet, mocha-flavored, nympho hottie is in this video. Well, what are you waiting for? Watch and work your meat, man.
More Big Tits »